Company Profile.
The staff at Shellmark Textile Machinery has over 30 years experience of supplying quality machinery to the national and international textile industry.

Based in Manchester, England, we manufacture, supply and install all types of special purpose machinery including Automatic and Semi-Automatic Hemming Equipment, Sewing Machines, Guides, Folders, Cutting Room Equipment and all types of Handling Systems.

The experience we have gained in installing equipment in Asia, Europe and nationally has lead us to realise that we have a responsibility to all our customers to supply the most advanced and reliable equipment available. We are proud of our reputation for providing an excellent standard of customer care and after sales service, which we realise, is one of the major requirements for all of our customers.
In addition to supplying all types of equipment, Shellmark Textile Machinery is able to offer the following customer services: - technical advice, feasibility studies, design factory layouts and when required, provide guidance in machine selection.

The mission statement for Shellmark Textile Machinery includes our desire to serve the worldwide textile industry to the best of our ability and to provide high quality customer care and service at all times.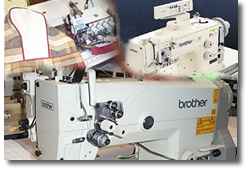 In addition to supplying the textile trade with high quality new equipment, we always have a large selection of good quality second hand equipment in stock. Updated lists are available on request. In addition we offer a service for sourcing specialist second hand equipment. We would also appreciate receiving listings for any surplus machinery you may have for sale.

Supported by the Single Regeneration Budget, European Regional Development Fund and the Tame Valley Initiative.